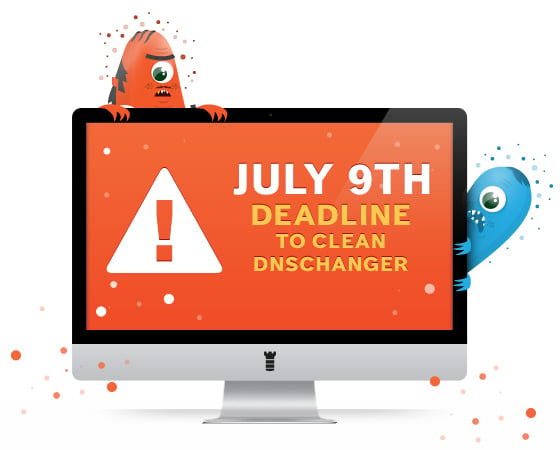 If you access internet from your PC and you are not aware of the threat of 9th July, then let me tell you, your internet connection is under threat. You might lose your internet connectivity on 9th July because of a malware called DNS Changer. All around the globe, there is about 300k computers affected by this malware. The US has the most affected number of computers with about 45,619 infected PCs. Italy ranks second with 21,831and then comes India with 19,642 malware affected computers. DNS Changer was once created and spread by hackers who created a company named Rove Digital and get this job done under this name. The main point behind DNS Changer was to change the DNS settings of the infected computer and drive them to fraud websites.
Earlier last year, FBI and Estonian Police arrested the criminals behind Rove Digital and got this criminal activity locked down. The FBI is now on 9th of July going to shut all servers or computers infected with this DNS Changer malware. So, if your computer affected by this malware then you better check the below steps:
Go to http://www.dns-ok.us
When you visit the site which is FBI approved, it will show you a pic with background of either green or red color. Green means your computer is safe and if it shows Red then head to the next step. I wish that you get the one like below. :)





Now you need to fix you computer, now head towards http://dcwg.org/fix which is again a FBI approved site. It will guide you about the removal of the malware manually and also with the help of other 3rd party malware scanning apps such as McAffe Stinger, Avira etc.


Before you get your PC clean, don't forget to create a backup file. After that fix your PC with the tools given on the DCWG website, Change your passwords and check your bank statements if you do online banking. This step is just for self-assurance and future safety.


You can always get your ISP (Internet Service Provider) to assist you in this case. You can also manually change the DNS settings by your own, but do it only if you know about it. You can also get third party DNS settings like Google DNS.


It is better to take precaution and do our bit. Don't forget to share this info, who knows might your friend got stucked in this trap. Show your care by hitting 'Like' and 'Share'.